Virus as a biological weapon, breathing in the hot air from a hairdryer as a medical treatment, or Bill Gates' top secret plan for reducing the world population. During the latest years, conspiracy theories have been spreading rapidly and the covid-19 pandemic did not change that.
According to the STEM agency study, the happenings related to the epidemiological situation encouraged some of Czech citizens to trust in conspiracies. Others, on the contrary, had developed a destructive distrust of media and other official institutions. Based on the study's results, up to 81% of Czechs agreed that mainstream media platforms – including the public ones – intentionally concealed or distorted the news during the pandemic. Therefore, plenty of people were searching for alternative sources of information.
However, many isolated people were missing the opportunity to draw a comparison between manipulative information and the real-life situation – of which the latter was constantly altering. We had decided to take a closer look at this topic in the context of remote working and its impacts on collaboration among employees. Do people that believe in conspiracies develop conspiracy theories about workplace relationships? Is there a connection between the tendency to believe in conspiracies and the reduced willingness to work remotely? Do conspiracy theories about what happens in the workplace emerge while the majority of employees works remotely?
Find out why these questions deserve a deep reflection.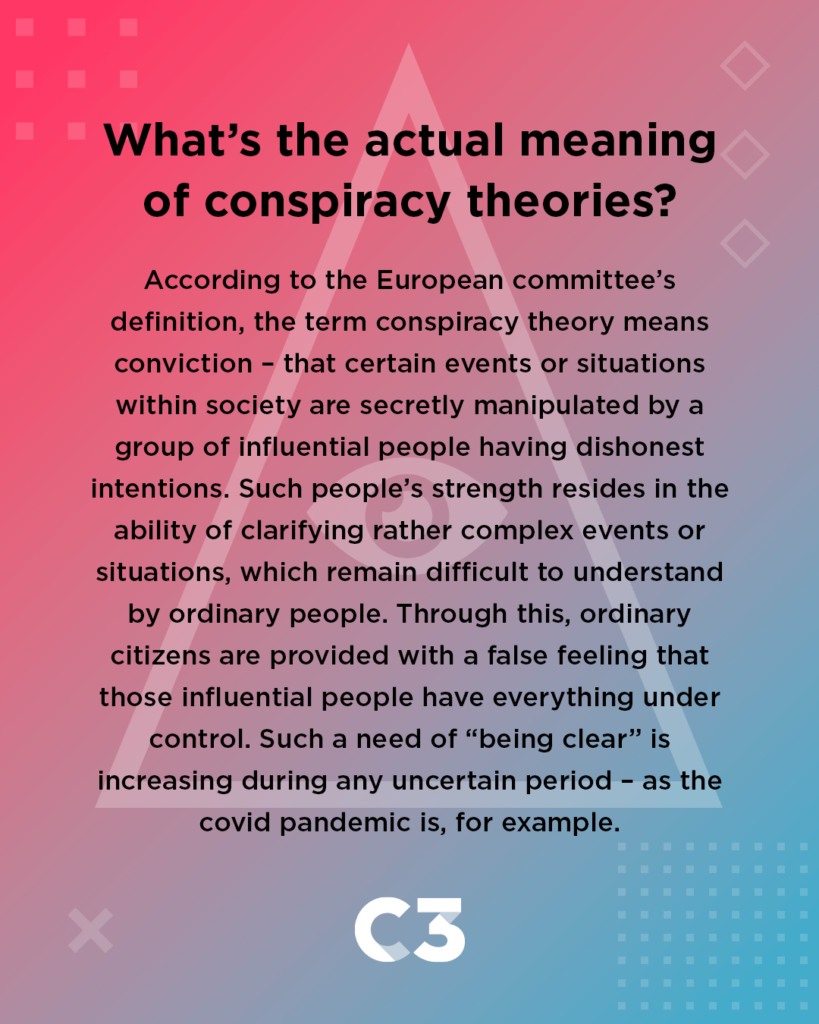 1) Conspiracy theories influence the level of concentration and activity while working
According to the study by Ana C. Leit and Karen M. Douglas, published in the British Journal of Social Psychology in 2016, conspiracy theories may contribute to worse concentration, insufficient communication and low satisfaction of employees.
How is that possible? Sometimes, all it takes is a haunting belief that the employer acts behind our back and prioritizes their own interests. Such a thought can easily lead towards complex feelings about the employer's dishonest actions and may result in quitting the job.
2) Conspiracy theories may disrupt relationships between colleagues
Strong and healthy workplace relationships are crucial. According to the Work Trend Index, originating under Microsoft, strong and friendly relationships among colleagues have a fundamental impact on productivity and formation of innovations . Such employees are more involved in the usual workday, as the study says. Contrastingly, workers who interact less with their colleagues are less skilled in the areas of strategic thinking, collaboration, brainstorming or suggesting innovative ideas.
Conspiracy theories resulting either from an unfair leadership or a privileged position of one of the colleagues may have a negative impact on workplace relationships, and thus also on employees' fluctuation. Complex beliefs that the employer acts dishonestly contribute to the general distrust, low engagement, and poor communication among employees.
3) The more we concentrate on achieving our goal, the less we believe in conspiracy theories
Prof. Cynthia Wang, together with her colleagues from Kellogg School of Management in the US, introduced an interesting perspective on the problematics of conspiracy theories in the context of human psychology. According to her, the tendency to succumb to conspiracies depends on how people think of control.
Wang claims that individuals who concentrate on achieving their goals are more resistant to conspiracies than those who focus on protecting what they already have. It is because the latter group easily feels at a loss of control, which affects their visions about the future. Both relationship experts and work managers may see a lot through this.

How to protect your team from conspiracies?
Read the whole article on Česká Spořitelna's blog.